A high quality surgical experience
Katarzyna Mackenzie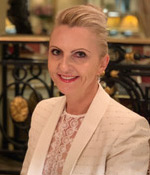 Katarzyna is an Auckland-based, New Zealand fully trained plastic, reconstructive and hand surgeon.
She undertook her PhD studies at the University of Otago focusing on skin cancers in kidney transplant patients and is one of only 4 plastic surgeons ever awarded PhD in New Zealand.
Dr Mackenzie trained extensively both in the UK and internationally and undertook a number of prestigious fellowships in:
Breast reconstruction, microsurgery, hand surgery at St Andrew's Centre for Plastic Surgery & Burns, Chelmsford, UK
Breast reconstruction and microsurgery, The Royal Marsden Hospital, London, UK
Aesthetic Breast Surgery, Banf, Canada
Aesthetic Surgery Fellowship, London, UK
Dr Mackenzie then trained with many of the pioneering minds in aesthetic surgery in London. She gained her extensive experience during a world leading aesthetic surgery fellowship at the top London private hospitals and built experience in every aspect of contemporary aesthetic surgery.
With her extensive training, research and fellowships she has developed specialist interests in:
Face
Blepharoplasty (eyelid surgery)
Facelift
Brow lift
Neck lift
Botox
Body
Abdominoplasty
Liposuction and body contouring
Lipofilling
Inner thigh lift
Brachioplasty
Labiaplasty
Breast
Breast augmentation
Breast reduction
Breast reconstruction (implant, own tissue)
Mastopexy
Inverted nipple surgery
Gynecomastia
Skin Cancer
Skins cancer and melanoma
Hand
Nerve compression syndromes: Carpal tunnel and cubital tunnel syndromes
Dupuytren's disease
Trigger finger
De Quervain's tenosynovitis
Ganglions
Trauma
Thumb base arthritis
Joint replacement
To find out more go to www.visageplasticsurgery.co.nz
Nelson Plastic Surgery
Phone: (03) 548 1909